Description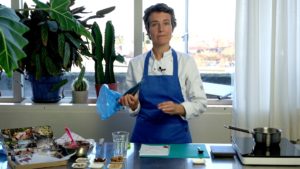 In een online workshop gaan we heerlijke bonbons maken, ieder vanuit de eigen 'keuken'.
Iedere deelnemer krijgt een box thuisgestuurd, met de heerlijke chocolade van Chocolatemakers. Dit is biologische chocolade uit Amsterdam. Daarbij krijg je een uitnodiging voor een ZOOM meeting op de dag naar keuze, waar we gezamenlijk de eerste stappen van het chocolade bewerken verkennen.
We doen een mini-proeverijtje , maken een kokos- en mango-vulling en verwerken alles tot mooie bonbons, truffels en flikken. Gegarandeerd genoeg voor de rest van de week.. In verband met de tijd maakt elke deelnemer de bonbons tijdens de workshop met melk of met pure chocolade en bewaard hij/zij de andere chocolade voor een ander moment. De witte chocolade is voor de vulling.
Alle producten in deze box zijn biologisch en duurzaam verpakt.
Duur: ± 1,5 uur
Prijs: €45,00 p.p. excl verzendkosten (€4,50)
(Bij groepen boven de 50 personen incl. verzendkosten).
Voor groepen vanaf 10 personen.
Neem contact op met Sofieke, bij interesse in een workshop voor 10 of meer personen.
Inhoud van de box:
2 repen pure chocolade 80%
zakje melkchocolade 100gr.
zakje witte chocolade 80 gr.
2 mini-reepjes extra. (voor proeverijtje)
kokosrasp
cacao-boontjes, -nibs en -poeder
gedroogde mango. (bio)
thermometer
'bonbon'-vorkje (composteerbaar)
handschoentjes (composteerbaar)
bakpapier (composteerbaar)
pakje kokosmelk (bio)
Allergenen: Bevat melkproducten, glutenvrij. Bevat producten die verpakt zijn in een ruimte waar noten opgeslagen zijn.