Description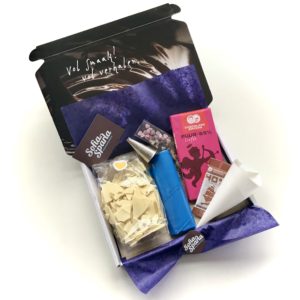 (english translation down the bottom)
In deze DIY Choco Hart Box (Wit) vind je wat je nodig hebt om een mooi en lekker Wit chocolade hart te maken. Heerlijke witte chocolade in kleine stukjes; om te smelten voor je hart. Daarnaast vind je een mooie, zachte pure 'liefde' reep. Die kun je omsmelten om extra versieringen te maken of je eet het natuurlijk zo op ;-).
De ingrediënten zijn volledig biologisch. Alle materialen in de doos zijn duurzaam samengesteld. De chocolade van Chocolatemakers is van uitmuntende kwaliteit en wordt lokaal gemaakt in Amsterdam. de witte chocolade is nog niet verkrijgbaar in repen en wellicht gaat dat snel veranderen: de smaak is wonderlijk! Een allemansvriend vriend.
Op mijn youtube-kanaal staat  link  naar een instructievideo waarin elke stap helder uitgelegd wordt. Doe je mee? Geef je je geliefde een mooi hart, om zelf te maken? Of ga je zelf aan de slag om er iets heel persoonlijks van te maken? Dit is een bijzonder cadeau!
In de video legt Sofieke uit hoe je de chocolade smelt. Maar ook hoe je deze terug koelt, hoe je een spuitzak hanteert en een mooi hart maakt. Heel leerzaam en leuk om te doen.
inhoud box:
-150gr. witte chocolade 33% Chocolatemakers
-1 reep pure 'liefde' Chocolatemakers
-mini reepje Tres Hombres Chocolatemakers
-nibs uit Dominicaanse republiek.
-decoratie extra.
-Spuitzak (composteerbaar)
-Spuitmondje (herbruikbaar)
-cornetje (mini spuitzakje)
-2 stukjes bakpapier (eco)
-1 kopie hart
-link naar video met instructies.
Zelf te kopen:
Klein stukje roomboter. En misschien wat leuke versieringen om het hart nog mooier te maken (zoals nootjes, rozijntjes, gedroogd fruit, smarties, nog meer hartjes, kokos, etc.)
Allergenen:
notenvrij, glutenvrij, bevat melkproduct.
English:
In this DIY Choco Heart Box Valentine you will find what you need to make a beautiful and delicious white chocolate heart. White chocolate in small pieces (couverture) to melt for your heart. You will also find a beautiful, soft pure 'love' bar, made by Chocolatemakers. You can melt it down to make extra decorations or you can eat it straight away ;-). The ingredients are completely organic. All materials and handy tools in the box are composed sustainably. Chocolatemakers chocolate is of excellent quality and is made locally in Amsterdam.
On my youtube channel there is a link to a video tutorial in which each step is clearly explained. Will you join? Do you give your loved one a beautiful heart for Valentine's Day, as a DIY box? Or are you going to get started yourself to make something very personal? This is a special gift! In the video Sofieke explains how to melt the chocolate. But also how you cool it back, how you handle a piping bag and make a beautiful heart. Very educational and fun to do. Let me know if you have any questions.