Description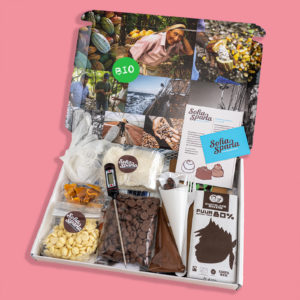 With this box, full of delicious and organic ingredients, you are going to make your own 'bonbons'!
It's a great activity for two. Do it with your friends, kids or on your own.
In an accompanying video (link in the box) Sofieke will explain exactly how to make great tasting chocolates.
You will also find some information about what you need to prepare in (or near) your kitchen.
This box is for the real chocolate lover! The chocolate we use is made by Chocolatemakers; local and organic.
There are three different types of  chocolate in the box: 37% milk, 80% pure and 33% white chocolate.
Enough bonbons for the rest of the year ;-).
It is not difficult at all, but it takes a little time.
Be patiënt and surprise yourself!
Or surprise someone else with a fun and tasty present.
approximate time: 1,5-2 hours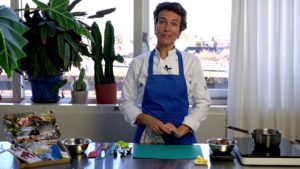 Content of the box:
2 bars of pure chocolate 80% Awajun
milk chocolate 37% Congo
white chocolate 33%
grated coconut
cocoa, -nibs and -powder
dried mango
thermometer
'bonbon'-fork (biodegradable)
gloves (biodegradable)
bakingsheet (biodegradable)
package coconut milk (organic)
illustrated recipe
Allergens: Contains milk product, gluten-free, Chocolate is nut free, but contains products packaged in a space where they store nuts.