Description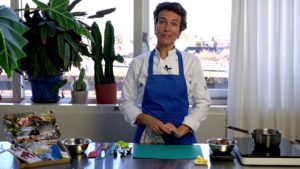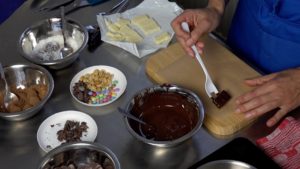 In an online workshop we will make delicious chocolates, at home from your own 'kitchen'.
Each participant will receive a beautiful box, full of ingredients, handy stuff and delicious chocolate locally produced by Chocolatemakers.
You will also receive an invitation to a ZOOM meeting on the day of your choice, where we jointly explore the first steps of chocolate processing. We do a mini tasting, make a coconut and mango filling and process everything into beautiful bonbons. Guaranteed enough for the rest of ..the week. All products in this box are organic and sustainably packaged.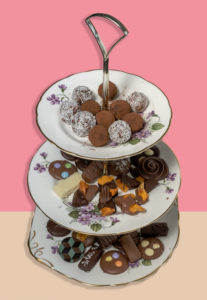 Content of the box:
2 bars of pure chocolate 80% Awajun
milk chocolate 37% Congo
white chocolate 33%
grated coconut
cocoa, -nibs and -powder
dried mango
thermometer
'bonbon'-fork (biodegradable)
gloves (biodegradable)
bakingsheet (biodegradable)
package coconut milk (organic)
illustrated recipe
Allergens: Contains milk product, gluten-free, Chocolate is nut free, but contains products packaged in a space where they store nuts.